[ad_1]

by
Merryn Johns
EDGE Media Network Contributor
Monday May 11, 2020
Daria Berenato  
WWE wrestler and mixed martial artist. Fashion entrepreneur. LGBTQ role model. It seems like nothing is out of reach for Daria Berenato, the first openly gay female wrestler in WWE history.
Signed under the ring name Sonya Deville, Berenato rose to prominence as a contestant in the 2015 season of WWE "Tough Enough." Today, she's proving that she's not only tough but a smart businesswoman, too, with the launch of her apparel line in collaboration with Heavy Heart.
Berenato can currently be seen in the ring on "SmackDown Live" and recently in Season 9 of E!'s "Total Divas" where she came out on national TV. EDGE caught up with Berenato to discuss how she built her latest ventures, which include Heavy Heart's LGBTQ fashion collection Rainbow Love.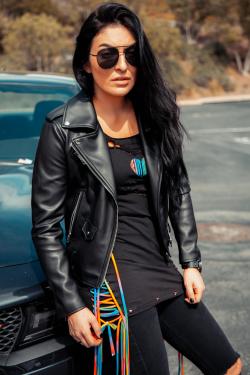 Daria Berenato  
What was the inspiration behind Rainbow Love? Heavy Heart seems like a very agile brand — we love that you printed the National Suicide Prevention Lifeline number on one of the tees.
Heavy Heart wanted to bring me in to have my very own line on the launch of the brand. We got to brainstorming, and we created something that meant something to us all. Emotionally, the brand is very dark and heavy but it's so colorful. We talk about the taboo emotions — depression, suicide, angst, sadness — but we talk about it to let you know it's okay to feel this way and that it's okay to love yourself however you are. It's okay to have a Heavy Heart with Rainbow Love.
How is Rainbow Love sending out a positive message to the LGBTQ community during this coronavirus pandemic?
Rainbow Love is a brand based on unity and the message that you are never alone. Through communication, you come to realize so many people are going through the same struggles every day.
The shirt "You Are Not Alone" was created pre-pandemic, but it launched right on the brink of it, so it was awesome to see people relating to the shirt through what's going on in the world right now as well. I want people to know through this line that it is okay to not al-ways be okay… it is okay to have a heavy heart and rainbow love all at the same time. Never be afraid to express yourself, talk to someone, or check on someone, especially in times like these.
As an out gay woman, do you feel fashion stereotypes us or overlooks us in any way, or is this changing?
I think fashion trends and styles now are so diverse, and it has so much to do with self-expression and less to do with just putting a look on the runway. The lines between gender fashion norms are being blurred, and as a gay woman with a tomboy/feminine style I am loving it! My style five years ago was so vastly different then it is now, but that's just personal change and the evolution of myself and my style. I love clothing and being able to express my-self through what I wear every day.
Who are your style icons and inspirations in the queer community?
Not to sound cliché but Madonna is and may always be my OG when it comes to LGBTQ fashion icons. She was and is always breaking the trends and starting her own, defying all social norms that may have existed. She wasn't afraid to take a masculine look and still make it sexy somehow, I definitely base some of my looks off of things she's done in the past. Absolute queen!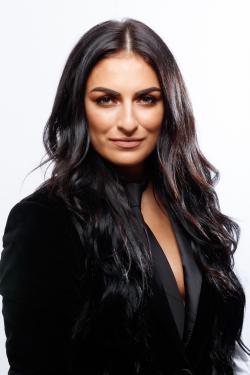 Daria Berenato  (Source:Ryan Loco)
A lot of people are resorting to track pants during lockdown. What is your go-to outfit, and do you still feel like getting "a look" together to keep your motivation up?
I have been living in oversized Rainbow Love T-shirts and my Ace Ventura basketball shorts [laughs] and, of course, my comfy oversized sweats as well. Once in a while I'll put on a little makeup and some black jeans and do some TikTok videos and get a good laugh, it definitely helps keep my morale up, but I do get a lot of work done from my couch in my sweats.
Rainbow Love appears to be gender-neutral. Are you consciously blurring the lines between gender binaries and allowing options for people who are non-binary?
That is the beautiful thing about this line: It is created to be general neutral and we have had such great feedback. The shirts are oversized but colorful and dark all at the same time. I feel like everyone can relate to most the items in the collection because the messages on the pieces are very universal. "You are Not Alone." We all relate to that.
You are a former dedicated pro MMA fighter in top athletic form — any advice on how to stay fit, immune-boosted and motivated?
Those mornings when you don't want to get out of bed or where going to the gym seems impossible, you need to push through. Getting a workout in any way I can is what drives me, and that feeling of satisfaction I get from the gym is what I love most. I train six days a week, doing a combo of strength and agility training with some yoga and a lot of bike rides. I like to switch up my workouts and new things. Sometimes for my cardio, I'll shoot hoops at the gym instead of running on the treadmill, etc. I love what I do, and I feel blessed every day that I have a healthy, happy working body to use.
You've embarked on various business ventures. When did you first realize you had the ability for entrepreneurship?
Since I was probably eight or nine years old, my first business was making bracelets out of par-ty leis and walking the Jersey Shore selling them during the summer. After that, I was a cashier at a 5- and 10-cent store, then I worked at a clothing store, followed by years of working in the service industry. I just always wanted success from a young age, and I had a very DIY type of spirit.
Being from a small town, most people aspired to get married, have babies and live the suburban lifestyle. I just didn't want that. I wanted to do something larger than life. I wanted to entertain, and I wanted to run my own show. I do that now with my merchandising line Damandyz Donutz and the Rainbow Love clothing collaboration, and I love it! No dream is ever too crazy, remember that.
Merryn Johns is a writer and editor based in New York City. She is also a public speaker on ethical travel and a consultant on marketing to the LGBT community.


[ad_2]

Source link